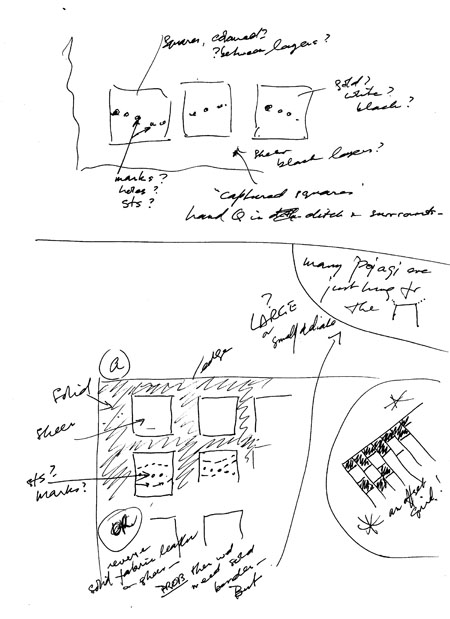 With arrows, stars, words and comments, this is a typical sketchbook page.  They're always in pencil, but I re-did this one for you in pen to get a clearer scan.  I understand my own handwriting and abbreviations in this aide memoire,  and even if it doesn't mean much to you I'm happy to share these marks as part of my process.  You're welcome to anything else you glean of the ideas they encapsulate

 There is much reference to several previous works or things I've been working with in sample form.
I regret that my hand writing has deteriorated, partly age-related

 but even more a sign of the times.   It is the nearest I ever come to journal keeping, but of course it is definitely not that.  I really don't know how the beautiful artist journal keepers keep it up  

¬†This morning I was casually googling around holes, sheers, grids and marks, when a couple of ideas struck. ¬†Not wanting to lose a second, and with the sketchbook upstairs as usual, I took a sheet of waste paper from the printer and jotted them down. ¬†I'm a diagram person, and when¬†epiphany strikes like that a simple diagram+words, stars and arrows captures it. One¬†just might solve a nagging problem to do with using sheers that has long bothered me, and I must let Rosemary Claus-Gray know ….