About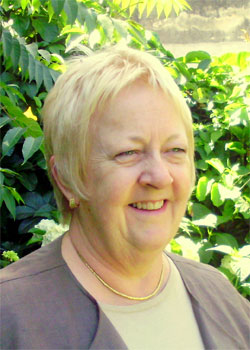 My mother and grandmothers all did embroidery, mostly counted thread works. Mum was always smocking something for her three daughters, turning us out in matching outfits each season until we grew old enough to rebel. I gegan sewing clothes in my early teens, but when I joined a creative embroidery class in 1976, the magic of the stitch itself captured my attention. I found myself captivated by varous combinations of fabric, thread, paint and found objects, and have been producing and exhibiting mixed media textile works, including wall and bed quilts, ever since. Examples of each period of my work, roughly chronological, appear in the drop down gallery menu at the top of this page.
Since childhood I have been fascinated by natural forces and the roles they play in shaping the landscape. I studied geography and geomorphology at university. Since marrying a geologist in the late '60's, I've found myself living in a variety of different landscapes: coastal and Outback Australia, central western USA, littoral and urban Uruguay, all of which have influenced my work. Regarding Landscape as a metaphor for Life is taking me in new directions.

Underlying virtually all my designs is that enduring essential characteristic of American patchwork, the repeated block or unit Since the early '90's the freehand techniques I have used mean that although highly repetitive, no two units are exactly the same. I very much like the juxtaposition of straight gridlines over wavy irregular lines. The resulting overall shapes of my quilts range from highly irregular to strictly rectilinear.

I currently spend much time in Uruguay, South America. For some time searched for something Uruguayan with some link to my Australian background that I could use in my designs, and since leather is produced in vast quantities by each countrty, this became an important material in many of my works in the past few years. As I often use salvaged scrap pieces of leather, that sits comfortably with the frugal and thrifty origins of the crafts of patchwork and quilt making.