about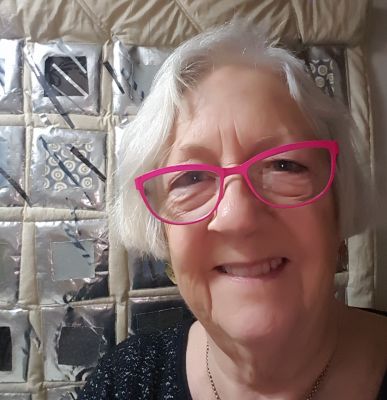 Australian girls in the 1950s were taught cookery and sewing as 'domestic science'. my grandmothers, mother and aunts all sewed and embroidered, so I learned many fabric and thread skills. I studied at university for a teaching career, but as my geologist husband's career required frequent major re-locations, my teaching career was patchy and brief. While I sewed and decorated and clothes for children, stitchery became a portable passion, linking me with fellow embroiderers, workshop teachers, quilt makers and multimedia artists wherever I've gone. Living in various different landscapes has always inspired my art.

My first designs in stitch were exhibited solo in Sunburnt Textures in Australia, 1987. Combining paint, stitch and found objects, framed mixed media works celebrated the colours and texture of landscapes. By moving to the United States I encountered traditional American patchwork; an intense love affair that developed as my ongoing experiences in the American Southwest renewed my interest the art of ancient Man. I produced the series of art quilts, Ancient Expressions. My Colour Memory series grew out of realising that I associate places and events with certain groups of colours. The Tracks quilts explore the notion that given a long enough period of time, every surface, from living body to granite mountain, displays signs of change. Most recently the Ebb and Flow quilts developed around the concept that like tidal action, the balance of various features such as people, health, fame and fortune in our lives changes constantly over time.

I publish a blog, www.alisonschwabe.com/weblog/ effectively my visual diary, in which I write on experiences and experiments related to my art.
I exhibit regularly in USA and Australia, occasionally teach workshops, and welcome opportunities to speak to textile art groups. My work is usually for sale, so for a purchase or a commission proposal please contact me for further information.